Help for non-tech-savvy clients
This page is dedicated to our potential clients who are not tech-savvy and know little (or nothing) about web, websites, eCommerce etc. On this page you will not find most comprehensive information nor most accurate one, instead you will find shortest and simplest explanations about the subject that anyone can understand.
In order to achieve online presence, meaning to have a website (informational site, blog, forum, online store, or any other type of custom application) you need three things:
Domain Name
Hosting
Application
Domain Name
The thing people type in web browser's address bar in order to get to a desired site is web address. Examples for web addresses would be www.google.com or www.yahoo.com. Domain names for these would be "google.com" and "yahoo.com". (www. part is irrelevant, when you register domain name you get both www and non-www versions.) In order to register domain name go to GoDaddy.com
. There are many other "Domain Name Registrars" where you can register a domain name, but GoDaddy.com
is one of the best.
During registration process GoDaddy.com
will offer you many things including hosting, but you should refuse everything except Domain Registration and Private Registration.
Public vs. Private
With a public registration, John Smith's personal information is available for anyone to see in the Whois listing for his domain - anywhere, anytime.
But a private registration with Domains By Proxy shields John Smith's personal information from public display - and the private email address GoDaddy create, allows John to control who reaches him.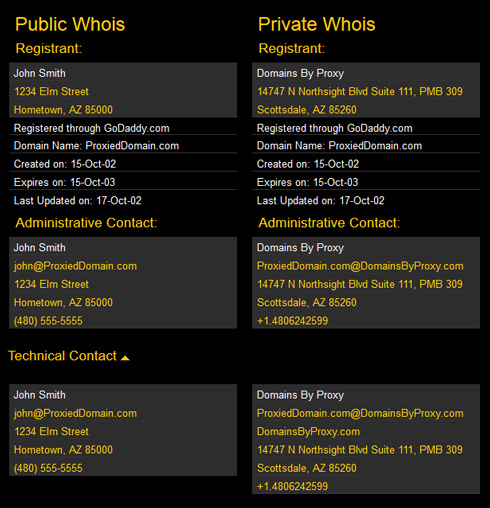 Hosting
In order for website to work, it must reside on a server. Server is a special computer that does a lot of things, but that is out of the scope of this short tutorial. All you need to know is that your website must reside on some server in order to work and to be accessible on the internet. The service of allowing your site to reside on some server is called Hosting. You can get hosting on HostGator.com or JustHost.com. There are many other hosting companies but these two are trusted ones and provide best service for a very low price.
Application
Application is programming code for the most part (this is the most difficult part and it is done by a web developer/programmer), along with some graphics (these are done by a graphical designer), and multimedia files like photos, audio/video files (these are provided by you, you can do these yourself or hire professionals to do these for you).
We hope this short explanation was helpful. If you have any questions feel free to contact us.